Back
The new Chancen eG and L'appel Partner
Higher education around the world is in need of a new financial model to sustain itself. A solution that is fair, socially responsible and ethical. Most importantly a model that is accessible to everyone. For the last 20 years such a model, titled the Reverse Generational Contract (RGC), has been assisting students in Germany.
How the RGC works
Students' fees are covered by a fund which is managed by a cooperative. Once students have graduated, they make relative, income based repayments – a percentage of their income. Repayments only start once the beneficiary earns above the minimum income threshold. There is no interest or a fixed amount of debt owed. No income means no repayments. Young people can make decisions that are pro family, pro volunteering and pro-humanistic values with no financial pressure. Our model has been proven successful and the impact generated proves that ethical financial solutions are sustainable.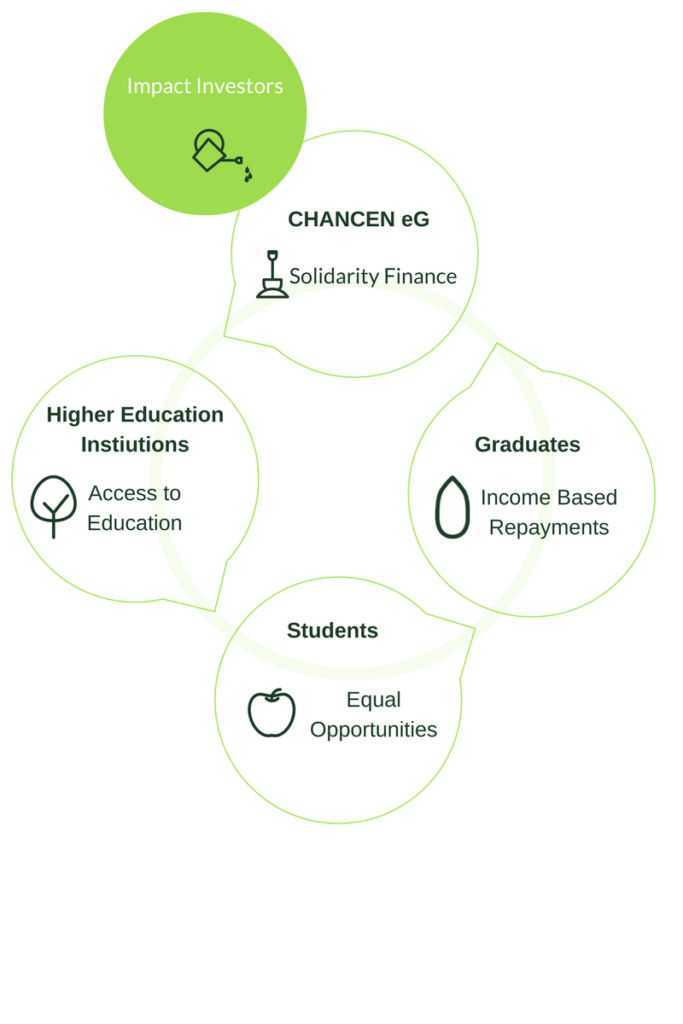 The potential we see
A significant number of young people still do not have equal opportunities in terms of accessing education. How do we increase access to education in countries outside Germany? How can we ensure that our generation and future generations have the opportunity to discover their individual talents and passion in life? How can communities grow and develop from within? There are answers to these questions. We, however, believe that there may already be a solution. We have partnered because of our common belief that the RGC is a model that has the potential to contribute to substantial, positive change in our world.
L'appel Deutschland and CHANCEN eG have partnered to expand the model into Africa. CHANCEN has vast experience in sustainable, financing of education, the best partner in this area. L'appel is an NGO with field experience in implementing RGC like models in Sierra Leone. Both are born from the University of Witten/Herdecke, we share similar values and carry the same vision.
"The greatest gift in my life is my education. Everything I am is because of this. It is just that simple. Education is nothing less than the most powerful tool to improve one's life and unlock the potential rests inside each of us. There is nothing better to support than the education of other; improving our communities, our countries and our globe."
– Jakob Skatulla, Member of Board at L'appel Deutschland e.V.
Our work together
Our first step together will be to show, through field research how the RGC can be implemented in low-income countries. Currently, the RGC is based in a high-income country with solid institutional structures. We want to prove that it is also viable in other environments. The research, in South Africa and Rwanda, will be in collaboration with the Chair for Development Economics at the Witten/Herdecke University. Two countries that have very different landscapes in terms of economy, education, employment and politics. The selection of these two countries was made by analysing the potential that was recognised in initial, stringent remote research we carried out.
A comparison between a low-income country and an upper middle-income country will highlight the specific regional characteristics and diversify the impact potential. It will test the hypothesis that there might be a lower income limit to which the RGC can be applied. The GNI per capita (Atlas) in Rwanda for 2015 is $700.00 (World Bank) classifying this it as a low-income country. South Africa on the other hand, with a GNI per capita (Atlas) of $6,080.00 for 2015 is an upper-middle income country. The remote research generated limited information in terms of what is required for us to effectively develop implementation strategies. These results motivated our decision for embarking on extensive field research. This research will take place from March until September of 2018 and CHANCEN eG, L'appel, the development economics chair and a free researcher will team up for this task.
More about us
L'appel Deutschland is a Cologne based NGO that was founded in 2013. L'appel focusses on health promotion, educational enabling and the support of local empowerment in order to fight for poverty eradication, undertaking development interventions in Sierra Leone and Rwanda. For the last two years, L'appel has managed small scale scholarship programs in Rwanda and was able to introduce an adapted model of the RGC in Sierra Leone. There the model was institutionalised and bound to an employer. This adaption has been training nurses, health workers, and public health practitioners to improve the hospital's human resource capacity, following the basis of the RGC concept. This has played an important role in the hospitals recovery after the Ebola crisis; enabling the institution to be fully operational and improving continuously in terms of treatment quality.
Through L'appel's experience in the field, it was clear from first-hand experience that the RGC has massive local impact potential. Based on this, first investigations and analysis were already carried out in Rwanda, in 2014 by L'appel. Over three months information about potential project success, influencing and disturbing factors and potential stakeholders were collected in preparation for the upcoming cooperation with CHANCEN eG.
"Access to education is very important for personal and societal development. The RGC enables young people to overcome financial challenges in terms of accessing education. The model us value driven, it sustains individual freedom and autonomy and also expands the possible opportunities in life. Together with L'appel we simultaneously analyse the impact perspective, always questioning whether we are truly making a positive contribution to societal development as well as developing the business perspective of the model. Only if both impact and business perspective merge we can archive sustainable social change."
– Florian Kollewijn, Board of Directors at CHANCEN eG
CHANCENeG is a social enterprise which designs and manages investment funds in education, currently offering the RGC at private universities across Germany. In 2015 former board members of the StudierendenGesellschaft (offering the RGC to more than 2500 students at Witten/Herdecke University for over 20 years), founded CHANCEN eG to provide more students at other private Universities with the same solution. In close association with the GLS Bank – Germany's oldest ethical and sustainable bank – the StudierendenGesellschaft and various impact investors the model became scalable. The goal is to ensure that access to education and career opportunities are independent of an individual's financial background. Currently, CHANCEN eG covers only costs for tuition fees but in the next two years, it will fund living expenses and related costs for individuals in higher education. It is also in the process of expanding to other European countries.
CHANCEN is experienced in the marketing, management and financing of the RGC, the calculation of the conditions and developing sustainable financial models. Additionally, it has experience in impact investing and measuring the social impact of the RGC. Together with the GLS Bank and its not-for-profit affiliate the GLS Treuhand the CHANCEN eG has a broad network of foundations, businesses and high net worth individuals seeking impact investing opportunities.
Follow our journey
We know that both the RGC and the cooperation of these two organisations will make a lasting change. We will be posting regular updates on our blogs and keep your social media feeds up to date with our latest developments. Should you wish to find know more about the in-depth developments of the project or you have something valuable that you would like to add, get in touch with us.
We dream big, but we want to dream big with you. We know that the RGC model works and look forward to a future where many more people benefit from this. We are about to begin a long and exciting journey. A journey we look forward to sharing with you.