Back
In 2021, both the number of new students and the use of student loans and Income Share Agreements (ISAs) went down, as shown by the student loan test of the Center for Higher Education Development (CHE). However, for CHANCEN eG the demand for ISAs has grown.
---
A review of 2021 brings back unpleasant memories: the winter was marked by many Corona illnesses and deaths; work from home, remote learning and lockdowns characterized the first months of the year. Omicron arrived in the fall, and with it a new wave of Covid-19. Many universities decided to offer another semester of remote learning only. It's fair to say it was a difficult year for students.
Number of new students drops, demand for student loans declines
Under these circumstances, a trend already observed in the higher education landscape in 2020 continued: the number of new students in Germany has been falling noticeably since the start of the Covid-19 pandemic. While more than 508,000 people took up studies in 2019, the figure in 2020 was still at a solid 490,000. In 2021 however, there were only around 472,000 new students1. According to the 2022 Education Report, the main reason for this is the absence of foreign students. After a decline of 22% in 2020, the numbers seem to have slowly recovered since 2021 – but in all likelihood have not yet reached the pre-crisis level2.
The overall decline in the number of students can be explained by two multi-year trends: Due to demographic developments in Germany, the number of young adults eligible to study is falling. This is also reflected in student numbers3. At the same time, the proportion of the population starting university studies is stagnating. Since the 1970s, when about 20% of young adults were studying, the rate has risen steadily until just recently. Now it has leveled off at about 45% – demand seems saturated4.It comes as no surprise that demand for student loans and ISAs is also declining. The only exception was the year of 2020, because KfW Bank adjusted its offer that year: Due to the pandemic, the KfW Student Loan was also offered to international students for a limited period, whereupon the number of contracts signed rose sharply. Since foreign students were excluded from access again in the second quarter of 2021, the number of contracts signed for the KfW Student Loan has plummeted5.
Exception: CHANCEN eG – number of contracts signed grows from year to year
Overall, it is noticeable that almost all of the larger providers of student loans or ISAs have less contracts signed in 2021 than in previous years. The only exception among the top ten providers is CHANCEN eG, whose number of contract signings has been growing significantly year to year. Even though the youngest provider on the market, CHANCEN eG already represents the fifth largest source of student loans or ISAs in Germany6.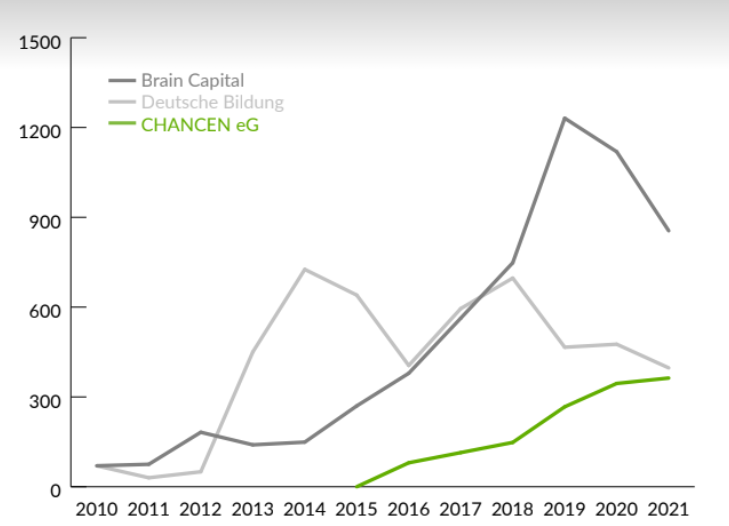 How to explain CHANCEN eG's success?
A look at the numbers shows that the education cooperative has concluded more contracts in two areas in particular: Medicine and Bootcamps. In contrast to KfW and other ISA providers, the education cooperative supports medical students in the EU from the very beginning of their studies. Despite Covid-19-related uncertainties, demand for medical studies abroad in the EU remained high in 2021 – and so did the need for funding of these usually expensive courses.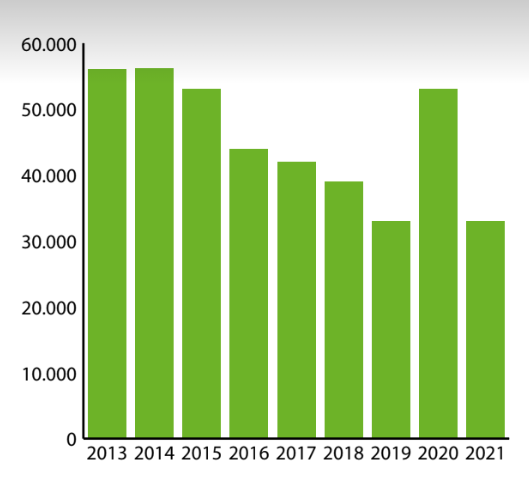 With tech bootcamps, the social business is promoting another underfunded area. These three to twelve month IT courses fall into the area of continuing vocational training; therefore, classic study funding such as BAföG and KfW is not available. Bootcamps primarily target people in their mid-20s who want to reorient themselves professionally.
Bootcamps also represent an attractive entry into the German labor market for migrants. In line with this, CHANCEN eG is expanding its range of financing options for international students with good prospects of staying in Germany and can thus support foreigners who would otherwise have little access to financial aid. In 2021, more than a quarter of the funded students did not have German citizenship.
In view of the shortage of skilled workers in the healthcare and IT sectors, CHANCEN eG has focused on education funding for young professionals in the affected industries and on target groups that have been financially underserved. This addition to already existing public and private funding programs proved to be crisis-proof in 2021.
---
Sources:
1 https://www.kmk.org/fileadmin/Dateien/pdf/Statistik/Dokumentationen/Dok229_VB_
Studienanfaenger-Studierende.pdf
2 https://www.bildungsbericht.de/de/bildungsberichte-seit-2006/bildungsbericht-2022/
pdf-dateien-2022/bildungsbericht-2022.pdf
3 https://www.destatis.de/DE/Presse/Pressemitteilungen/2021/11/PD21_538_21.html
4 https://www.bildungsbericht.de/de/bildungsberichte-seit-2006/bildungsbericht-2022/
pdf-dateien-2022/bildungsbericht-2022.pdf
5 https://www.che.de/download/che-studienkredit-test-2022/?wpdmdl=23561&refres-
h=6319a9943da431662626196
6 https://www.che.de/download/che-studienkredit-test-2022/?wpdmdl=23561&refres-
h=6319a9943da431662626196