Back
A year ago, we reported on the bottoming out of the crisis: After COVID-related slump, Batya Blankers' team founded the new Future of Work Fund and aims to support up to 10,000 students in Africa. Where does CHANCEN International stand today?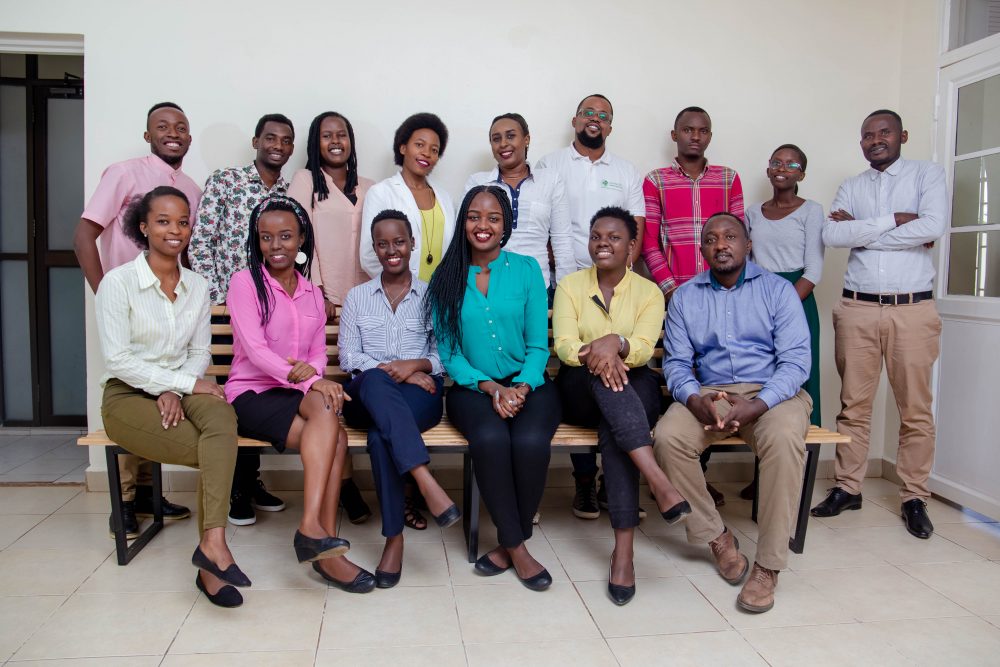 "Most of it worked out," says Batya Blankers, Managing Director of CHANCEN International gGmbH, happily. The native South African (born in 1988) had gone through a roller coaster of moods in recent months; but never lost her goal and her optimism. And she was right: the year 2021 could be the breakthrough for CHANCEN International.
As a reminder, in 2020, the subsidiary of the German cooperative initially had to significantly scale back its plans in Rwanda due to the pandemic. But then new doors opened: In the fall of 2020, the Basel-based UBS Optimus Foundation pledged seed funding for the launch of a new company, Future of Work Fund plc, based in Kigali, Rwanda. This enabled the company to be established and the first relevant legal details to be clarified.
Further discussions with the U.S. development bank DFC, with lawyers and with some larger impact investors then resulted in a sophisticated structure for this fund, with which a total of 21 million U.S. dollars in equity and debt capital can be collected. Of this, the debt capital has already been completely committed; sponsors are only still being sought for the students' participation in the education fund. Background: Two million US dollars of equity capital are necessary to secure the investors, of which 0.5 million USD are still missing (as of November 2021). With the capital of this fund, the tuition or training fees – including living on campus – for 10,000 young people from Rwanda, Kenya and South Africa can be financed for an education close to the labour market. The concept for the financing is – just like in Germany – the Income Share Agreement (ISA): First, investments are made in education, then the educated pay back the support according to their financial possibilities. Over-indebtedness among young people, as is possible and also happens time and again with a bank loan, is ruled out with this concept. "For this reason, I used it myself as a student. That's also why I'm absolutely convinced that it's the right instrument for financing education:"; Blankers emphasizes.
But that wasn't the only success.
In June 2021, 341 young people successfully completed their studies at Davis College. This brought the total number of graduates financed through CI to date to 490. Of these, 59 percent have already found a job, and 289 are already paying back the agreed 15 percent of their income, as they exceed the minimum income of around 80 euros per month.
New education partners were found.
CI started with two education partners in Rwanda, the Kepler Institute and the Akilah Institute, both in Kigali/Rwanda. In the meantime, there is a pilot project to expand the ISA offer in South Africa; the first four South Africans started their training in fall 2021. For this, CHANCEN International is working with BluLever, a craft training center, and thanks to an individual donation from the Dell Foundation, with WaFunda, an educational center from South Africa. If everything works out as expected, CHANCEN International will make its know-how available for a manageable license fee and will not need to set up its own organization in the country on the Cape of Good Hope.
The organization has grown in size.
Due to various regulatory requirements in Germany as well as in Africa, CHANCEN International has now grown into a group that also has corresponding control structures (governance), such as a board for the subsidiary CHANCEN Rwanda Pty Ltd by Guarantee, which includes external members for control in addition to the management (so-called one-tier model). This now also includes a Finance Committee and a Governance Committee.
As the year draws to a close, Batya Blankers is confident that the fund will get off to a successful start. It only depends on the last missing quantum of own funds, then a projection of 2,000 new students can be admitted for the year 2022. And then, says Blankers, "the wheel will start to roll, and it won't be so easy to stop it then. That's what I dream of."